Introduction
About RINEARN Graph 3D
RINEARN Graph3D is an install-less free 3D graph software available for plotting data from numerical files or spread sheet software.
RINEARN Graph 3D can run on various kinds of desktop operating systems without installation, and can be launched from various kinds of storages contains USB flush memories.
You can use RINEARN Graph 3D free of charge, regardless of whether for commercial use or for non-commercial use.
RINEARN Graph 3D Official Website:
All modules of RINEARN Graph 3D (containing the 3D graphics engine) are implemented by Java-language, so you can expect the almost same behaviour and rendered result on any PCs, independently from differences of platforms and hardwares.
The 3D graphics engine equipped in RINEARN Graph 3D supports shading and lighting effects, so It can render graphs with realistic shadows and speculars. It will help you to recognize complex/little shapes and structures in the graph intuitively.
The user interface design of RINEARN Graph 3D focuses on the simplicity and the quick handleability as a "daily" analysis tool. For example, you can modify plotting options in two clicks from the menu bar.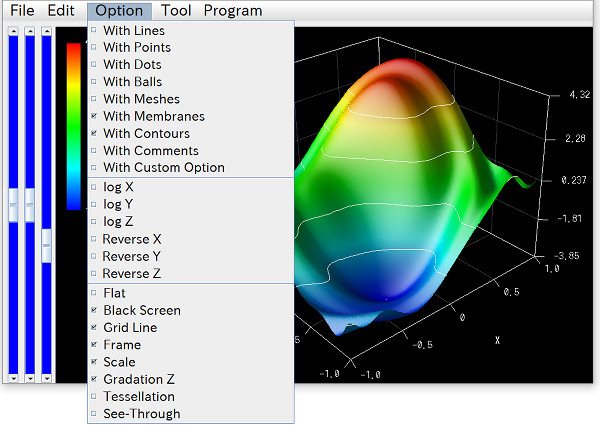 About the License
As mentioned at first, you can use RINEARN Graph 3D for free of charge, regardless of whether for commercial use or for non-commercial use. Copyrights of graph images generated by RINEARN Graph 3D are belong to users, so you can use the graph images freely (but, please be careful about the license of the font you use it in the graph images).
The license file of RINEARN Graph 3D is included in "License" folder in the downloaded package as "RINEARN_Software_License.txt", but it is described in Japanese. You must agree to all license terms to use RINEARN Graph 3D. The rough translation of main points of license terms are as follows:
(In the following sentences, "RINEARN" means the vender/developer of this software.)
You will licensed from RINEARN about using this software only in case of you agree with all license terms.
This software is provided without any kind of warranties.
Any kind of RINEARN's liabilities and responsibilities are excluded.
License terms and the license agreement shall be governed by and construed in accordance with the laws of Japan.
You can redistribute this software with your data files, or with your programs which using APIs of this software. To redistribute it, you must include the license file of this software in the redistributing package, and, you must mention about the license of this software in the main document (e.g. README). Users of this software included in the redistributing package must agree to all license terms of this software to use it.
You can NOT redistribute this software alone.
Features of Ver.5.6
RINEARN Graph 3D Ver.5.6 (released 5.6.0 in 2018) is 6-th minor-upgraded version of Ver.5 (released in 2013). At this version, user interfaces of the main window and menu windows are refined, under keeping the same handleability with conventional versions. As a new feature of the new UI, &quick;Quick-setting selector&quick; was implemented at the right-top of the main window. You can select and apply settings saved previously from this selector very quickly.
As another big new feature, APIs for controlling RINEARN Graph 3D from programs written in Java lang are now available. By using this APIs, in your programs, you can plot graph from files and set options. You also can plot graphs by transferring vertices data as arrays, and can animate graphs by transferring data continuously.
In addition, you can draw points, lines, triangles, and quadrangles freely in 3D space by using APIs of the 3D graphics engine directly. RINEARN Graph 3D can also be used as a easy and symple 3D graphics environment for programming, by using this APIs.
---