RINEARN

Graph 3D
Available on various desktop OS without install
RINEARN Graph3D is available on various desktop OS. It does not require installation, so you can use it just now! It can be launched from a USB memory, and can be sent with data files by e-mail as an attachment file. RINEARN Graph3D release you from complicated environment dependency.
* This software requires Java(R) Runtime Environment(JRE)*1.
Launch Quick-Usage Version Now !
Quick-Usage version is available now from this page. At first, click the following button. Then "RinearnGraph3D.jar (JAR file)" will be download. Open that JAR file and RINEARN Graph3D will be launched.

Next, copy data from a spread sheet application. Then right-click on the graph screen of RINEARN Graph3D and select "Paste Data". The data will be plotted as 3D graph on the screen.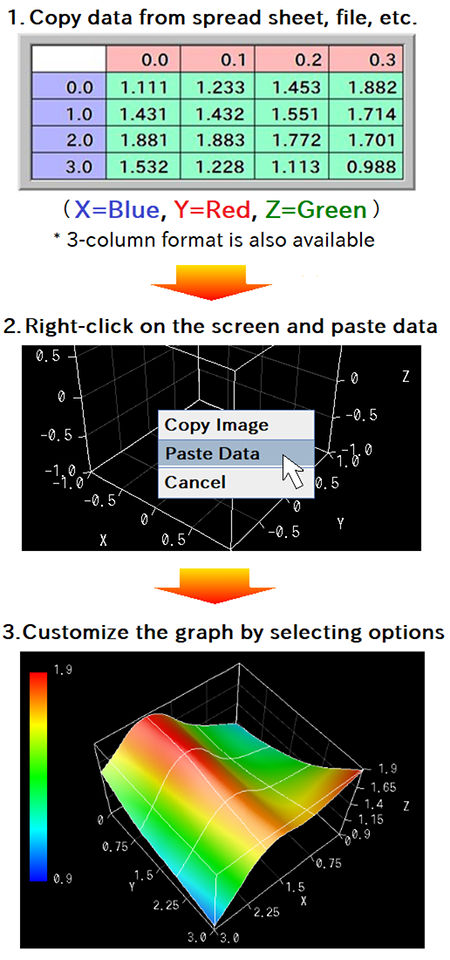 Data can be pasted from general text editors such as notepad. Ofcourse, RINEARN Graph3D can load data from files. Please see the guide page of Data File Formats as a reference of supported data formats.
By the way, some features (e.g. automatic plotting by script) are not available for Quick-Usage version. If you like RINEARN Graph3D, please download Standard-version which supports all features.
3D Graphics Engine
RINEARN Graph3D equipped with original 3D graphics engine of software-rendering type. This engine can render high-resolution mesh data such as 100x100, but it does not require any 3D graphics accelerator devices for your PC.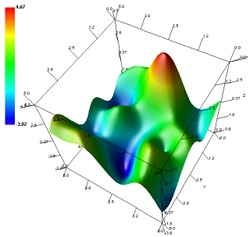 This engine can render 3D graphs with realistic lighting/shading effects for supporting you to recognize complicated shape of 3D graphs easily.
Smoothing of Rough Data
RINEARN Graph3D supports tessellation feature for smoothing of rough mesh data. This feature complements vertices of the mesh data and divides a polygon into many pieces of small polygons for high-quality smoothing.

Of course you can switch ON/OFF of this feature.
Easy & Simple Interface
User interface of RINEARN Graph3D is simple and easy to handle. It composed of classical pull-down style menu bar and mouse actions. You can get used to it soon.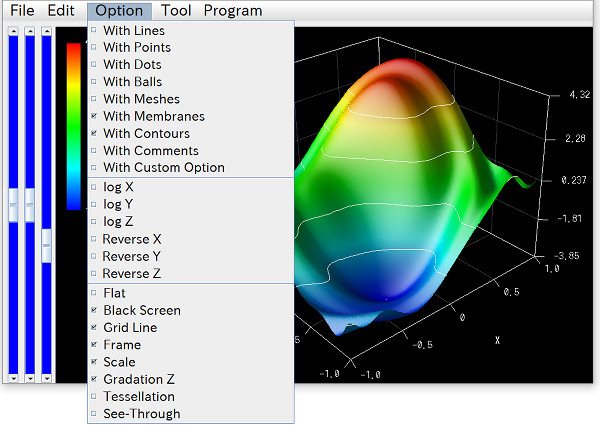 License
Complete license terms of RINEARN Graph3D is
in here
, but it is written in Japanese. At briefly, This software is free for any purpose, but you must agree with that the author of this software is not liable for any claim, any damages, any other liability.
Download
*1: Oracle and Java are registered trademarks of Oracle and/or its affiliates. Other names may be trademarks of their respective owners.