User Interface of the Main Window
User Interface of the Main Window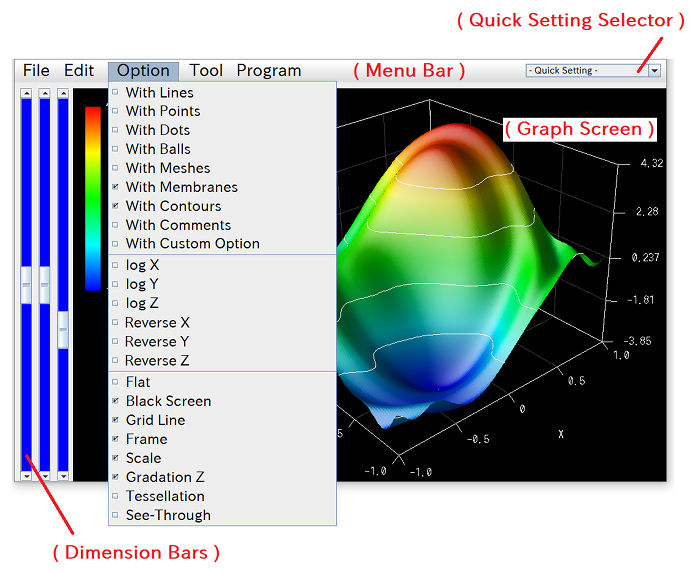 Menu bar
You can open data files, select plotting options, and set ranges, etc. from menus in the menu-bar at the top of the window. For detailes of each menus, please see "Menus" page.
Dimension bars
Lengths of X, Y, Z axises of the graph can be adjusted quickly by "dimension bars" which are triple vertical sliders at the left of the window.
Graph Screen
The graph image is displayed on the screen at the center of the window. On this screen, you can control the camera angle and the magnification by mouse motions and actions.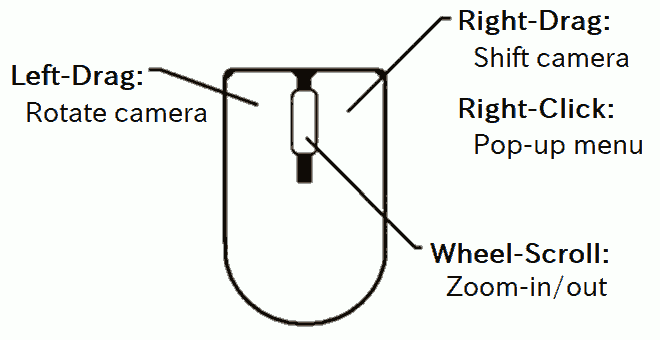 Quick Setting Selector
You can select and apply settings saved previously from "quick-setting selector" at the right-top of the window. Setting files are located in "RinearnGraph3DQuickSetting" folder. If you want to inherit settings after updating the software, please copy setting files in this folder.
Right Click Menu
---
The following menus will be popped-up when the right button of the mouse will be clicked on the graph screen.
Copy Image

Copy the graph image to the clipboard.

Paste Data

Paste vertices data from clipboard to plot. You can plot the data of the clipboard copied from other softwares (e.g. spreadsheets) instantly.
---